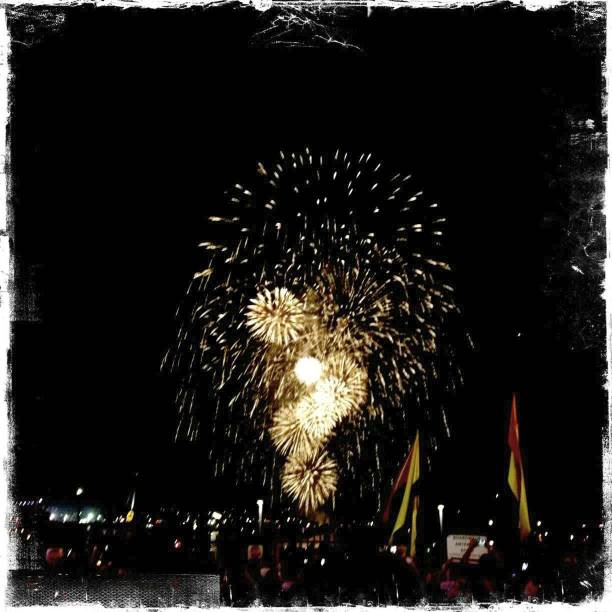 Spending the New Year's Eve in Sydney is the dream of many, but I may prefer to watch the fireworks on TV.
Once that is said, I have to admit that it has been a big emotion to be in first line watching the most beautiful fireworks in the world just from below, and last but not least I was among the first people in the world to enter the new year (due to the timezone 'course)!
My friends booked tickets for the Luna Park that faces the Sydney Harbour Bridge.
That gave us the privilege to be in first line for the show with the little drawback that we had to look at them through the ferries-wheel!


There have been two sessions of the fires, there's obviously the one at 12 a.m., but the first one is at 9 p.m., Justine says they are 'for the children' so that they can go to sleep soon, but I believe they are a test to make sure there will be no incidents during the big thing at midnight.
We had time for some rides and some sandwiches and that took me back of 15 years. A forgotten fun.
Hey, that's not all, for my surprise, after midnight the party continued in the inside of the Luna Park main dancing hall where a big concert was held by some famous Australian artists such Wynter Gordon and The Potbelleez and more of course.. but we didn't resist much.
This one is for sure a moment I won't forget!!
Thanks Jus, Vee, Ramona and Nev!!

"New Year's Eve at Sydney's Luna Park by the Harbor Bridge"
From Australia – 20111231 – NYE in Sydney, posted by Marco Massari Calderone on 2/01/2012 (41 items)
Generated by Facebook Photo Fetcher